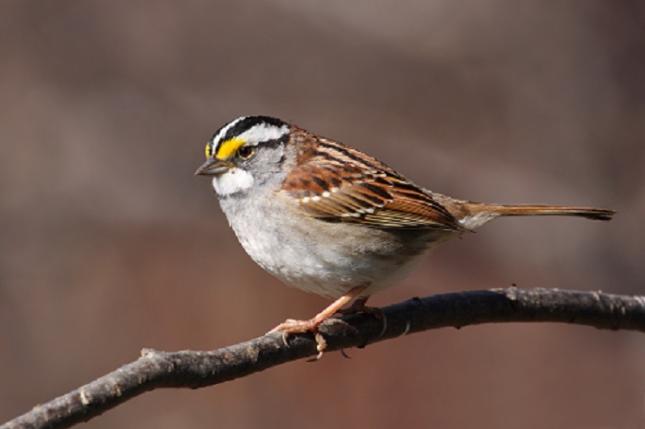 White-throated Sparrow
October Nature Happenings
Mid-October brings the greatest variety of migrating raptors. Golden Eagles, Peregrine Falcons and Merlin's can be sighted. Broad-winged Hawks are gone by end of the month.
Sharp-shinned Hawk population increases dramatically from northern migration. Look for them along road sides and hanging out at your bird feeders.
Most Wood Ducks begin to migrate south this month, but a few stay to over winter in Eastern part of the state.
Green-winged Teals and Pie-eyed Grebes are migrating south, look for them at Abrams Creek, Lake Frederick, and farm ponds.
Last of the Chimney Swifts will leave at the beginning of the month.
Merlin, a pigeon-sized falcon from Canada, is migrating through the area headed south. Merlin's will be found scanning open areas from treetops. Look for them at Blandy Farm, Abrams Creek Wetlands, and Lake Frederick.
Purple finches will be attracted to finch feeders.
Fox Sparrows, Lincoln Sparrows and American Tree Sparrows may be seen under feeders scratching through litter during their autumn migration.
Blue-headed Vireos are traveling through to their wintering grounds. Look for them in coniferous habitats foraging for insects.
Orange-crowned, Tennessee, and Black and White Warblers are migrating to their wintering grounds, look for them in deciduous forests gleaning for insects.
Lapland Longspur, a common arctic tundra bird is sometimes found wintering in pastures and open grasslands foraging for insects and seeds.
Ruby-throated Hummingbirds, House wrens, Catbirds and Tree swallows have departed by the end of the month.
Juncos, White-crowned and White-throated Sparrows become common under the feeders, migrating from their northern breeding habitats.
Look for Rufous Hummingbirds to arrive in Maryland and Virginia, keep your feeders up through December!
This is the month to install and repair nest boxes for use next year. This is a very good time to clean out Purple Martin houses.
Keep nesting boxes up for cavity-dwelling birds to roost during the upcoming colder nights and inclement weather.
Goldenrods, Asters, Bonesets and Blazing Stars are in bloom.
White-tailed Deer bucks go into rut and are moving, keep a watchful eye along the highways.
Groundhogs are feeding profusely in preparation for hibernation.
Virginia bats are either migrating south for the winter or seeking shelter in surrounding caves to hibernate.
Beavers are very active in the evenings while caching a winter supply of food.
SPECIAL DATES
Draconids Meteor Shower, October 8. Best time to view – early evening.
Autumn colors peak in the third week of October 15 – 25.
Full Moon, October 5, called the "Hunters Moon", this is the month when the leaves are falling and the game is fattened. Now is the time for hunting and lying in a store of provisions for the long winter ahead.
Orionids Meteor Shower is October 20 – 21. Best viewing time is after midnight.
First Frost October 21- 31.
New Moon, October 19.
Halloween, October 31. Birds associated with Halloween throughout history are: Raven, Crow, Vultures and the Barn Owl.
INTERESTING HISTORICAL DATES
October 2, 1968, Wild and Scenic Rivers Act signed into law.
October 4, 1181, Birthdate of St. Francis of Assisi.
October 7, 1923, Birth of the Appalachian Trail.
October 12, 1492, after 33 days of sailing, Christopher Columbus lands on the beaches of the Bahamas.
October 18, 1972, Clean Air Act signed into law.
October 25, 1900, Lacey Act Signed into law.
October 27, 1858, Theodore Roosevelts Birthdate.