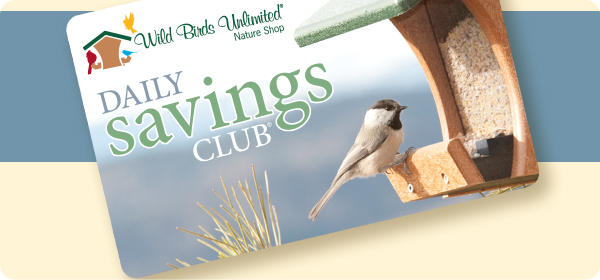 Club Members Save All Year Long
On the Freshest Bird Food in Town
As a member of our Daily Savings Club®, for your annual membership fee, you receive these benefits*:
15% OFF regular prices of all bird food every day.
5% OFF bird food sales prices.
$10 Bird Buck coupon for every $200 purchased throughout the store.
Members-only specials
It's a great way to make your birds happy and save money, too!
FREE Gift* When You Join the Club
*Join our Daily Savings Club and receive a FREE gift, along with the member benefits outlined above. Membership is valid only at your local WBU Home Store where the membership is purchased. One gift per DSC membership. Not valid with other discounts or previous purchases.
Summer is a great time to feed your birds! The Podcast by John and Brian above has great tips for summer feeding. And for more information, check out the Cornell Lab link below.
WBU No-Mess Plus Blend: Calcium for Nesting Birds, No Mess for You
WBU No-Mess Plus Blend: Calcium for Nesting Birds, No Mess for You
Compared to other blends, our No-Mess Plus Blend provides a more balanced nutritional offering at feeding stations to meet the needs of nesting birds and increase the frequency of visits to feeders. Not only does it provide much needed supplemental energy for the high demands of the nesting season, but also the added calcium is the perfect ingredient to help strengthen egg shells for nesting birds and an essential building block as baby birds grow.
Calcium is the most challenging mineral for birds because when they need it in their diet they need large quantities and they need it right away. This is mainly during nesting time for egg laying as well as chick development. The amount of calcium in their natural diet of seeds and insects is often inadequate and they must seek calcium-rich foods as a supplement. Our No-Mess Plus Blend offers them the much-needed calcium and it does it all with no shells so it is a wonderful no mess option for you.
Watch for increased evening feeder activity by female birds as they consume concentrated calcium sources to form an egg overnight to lay the next day. Also, offering No-Mess Plus Blend makes it more likely that you will see fledgling birds at their feeders later this spring as they learn to feed themselves.
Each of our blends is locally selected to meet the regional and seasonal needs of the birds. We do not include filler grains like oats, wheat and milo that decrease the price per pound of a mix, because these filler seeds are less attractive (or not attractive) to birds. Because there is no wasted seed, our blends actually end up costing less to use while attracting more of the birds that you want to watch
July Nature Happening

• First brood of immature hummingbirds appears at nectar feeders early in the month.
• Look for hummingbirds feeding on Trumpet Creeper, Jewelweed flowers and most tubular flowers.
• Except for goldfinches and late bluebirds, bird breeding and nesting season ends this month.
• Yellow Warblers begin to migrate south towards the end of the month, flying at night in mixed warbler flocks, resting and feeding during the day. Most will be gone by August.
• Shorebirds begin Fall Migration.
• Blackbirds begin to flock together.
• Listen for the feeding screeches of young Barred and Great Horned Owls.
• Young Great Blue Herons are found in local ponds and lakes.
• Katydids and Cicadas are in full chorus by mid-month.
• Japanese Beetles will peak this month and begin their destructive rampage, Catbirds, Robins and Cardinals are natural predators.
• Fawns begin traveling with adult females.
• Raccoons, skunks and opossums are digging up and eating turtle eggs.
• Juvenile opossums, "Joeys" can be seen hitching a ride on Mom's back.
• Wild blueberries ripen in early July.
• Thistle plants begin to seed and Goldfinches gather the thistledown for nesting material.
• Butterfly milkweed in bloom. Look for Monarch Butterfly adults, eggs and larva.
---