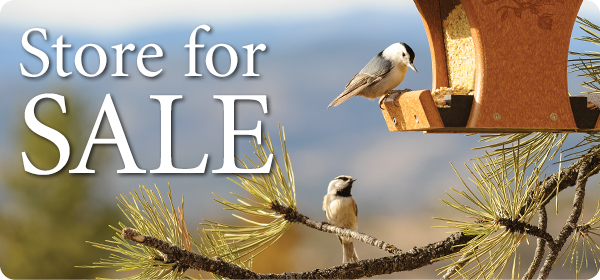 After 13 Years, We are Planning our Retirement: but first,we need to find someone who loves the birds, loves nature and who will love our customers as much as we do!
We want to retire, but we need to find the next great Wild Birds Unlimited store owner first! We are getting older and have made the decision to retire, right AFTER WE have found a perfect new owner for our shop. We want all of our wonderful and faithful customers and friends to know these four things:
We are NOT going out of business.

We will be here for you and continue to operate our shop until we find the right buyer for it.

We are going to find the best buyer we can, who will love you and the birds and the business as we have over the past 13 years.

Only after that will we retire, even if it takes a little while!
Wild Birds Unlimited of Winchester is an ideal small business opportunity that offers:
A strong following with over 2500 active customer base and 13 years of solid growth,

Trained staff of 5 employees with backyard birding knowledge,

Over 500 private label and proprietary products,

Established franchise system with over 330 stores across North America,

A franchise system that offers full training and ongoing support with dedicated business coaching,

Professional marketing support with innovative marketing for email, TV, print,, social media, and in-store displays,

Wild Birds Unlimited ranks #1 in Franchise Satisfaction or the retail category by Franchise Business Review
How you can help
You can help us by sharing this news and telling friends, family, or acquaintances who might be looking to own their own business, and who would love sharing a passion for the birds. Our store is an established, successful, and profitable business that has a great staff and vendors in place, in a brand with an excellent track record, and with a large and loyal customer base.
We have LOVED owning this store and getting the chance to meet all of you while sharing our love of the birds. But we all reach new phases in our lives and we want to get the wheels turning to start our retirement years. We hope to travel some, but we also just want more time to enjoy the birds right in our own back yard.
If you know anyone who would like to:
Turn a hobby into a business,
Feel pride in running a local business which is engaged in the community and employs local people,
Gain satisfaction from providing creative and educational opportunities for faithful customers,
Experience joy from bringing people and nature together,
Work for themselves with flexible hours and have fun at the same time,
Please share this information with them! Then tell them to contact Dolores or Bruce Johnson at 540-722-9407 or email us at:

[email protected]

. Need more information about owning a Wild Birds Unlimited franchise go to: franchise.wbu.com.
Thank you again for all your support and participation in such a wonderful hobby. Happy Birding!